Quand les Calanques deviennent Parc National : Disputes autour de la définition et de la répartition des efforts environnementaux et urbains induits
This article proposes an analysis of the conflicts surrounding the creation of the Calanques National Park, near Marseille, the first periurban national park in Europe. Our approach has embraced the analytical framwork of environmental effort. Environmental effort may be defined as the socially differentiated and potentially unfair contribution of social actors to public environmental-protection policies. As part of a wider environmental inequality framework, this sociological survey, initiated in 2008, has gatgered a variety of data. We shall look at both the importance of procedures implemented and the role these procedures play in the environmental reclassification of this area, which has long been used by local urban populations. The first part of the article focuses on conflicts relating to uses within the park itself, while the second focuses on conflicts concerning the managament of its entry points. Linking these two dimensions, the final part of the article shos how environmental effort goes hand in hand ith urban effort.
Cet article propose une analyse des conflits relatifs à la création du Parc national des Calanques (18 avril 2012), premier parc périurbain européen. La grille de lecture proposée est celle de l'effort environnemental, défini comme la contribution, socialement différenciée et potentiellement inéquitable, des acteurs sociaux aux politiques publiques de protection de l'environnement. S'inscrivant dans le cadre d'analyse des inégalités environnementales, ce suivi sociologique initié en 2008, regroupe un dense corpus de données (observations directes, entretiens, questionnaires). L'analyse porte sur le processus de concertation et sur les premières implications de la requalification environnementale de ce lieu fréquenté de longue date par des populations urbaines locales. Une première partie porte sur les conflits relatifs aux modes de fréquentation du lieu et une seconde sur ceux relatifs à ses portes d'entrée. Mettant en regard ces deux dimensions, une dernière partie montre comment l'effort environnemental se double d'un autre type d'effort, qu'on qualifiera d'urbain.
Fichier principal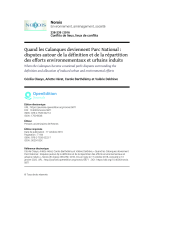 norois-5871.pdf (1.7 Mo)
Télécharger le fichier
Origin : Files produced by the author(s)
licence : CC BY NC ND - Attribution - NonCommercial - NoDerivatives