La loi de Zipf dans la science régionale : entre anciennes controverses et nouvelles perspectives
Zipf's law is one of the main features in regional sciences, when it comes in studying urban systems' organization. By recalling on the most representative studies on this issue, over the last thirty years, this paper aims to focus on the main controversies that characterize the rank-size models, that is, the use of a truncated city-size distribution and the method of estimating the Pareto exponent. The recent introduction of the rank-size models in a more dynamic approach opens up new perspectives in understanding the Zipf law, as the latter becomes the outcome of an urban growth process.
La loi de Zipf conditionne une grande partie des travaux scientifiques sur les hiérarchies urbaines. Par un large rappel des principales contributions théoriques et empiriques sur ce sujet depuis une trentaine d'années, l'objectif de ce papier est de mettre en évidence les controverses qui accompagnent l'utilisation des modèles rang-taille en science régionale. Celles-ci sont essentiellement d'ordre méthodologique, liées au bornage de l'échantillon des villes et à la méthode d'estimation du coefficient de hiérarchisation. Elles mettent, cependant, en lumière les risques d'erreur d'interprétation liés à l'utilisation de ces modèles. L'introduction plus ou moins récente des modèles rang-taille dans une approche dynamique permet d'ouvrir des nouvelles perspectives de recherche, en faisant de la loi de Zipf, l'aboutissement d'un processus de croissance urbaine complexe.
Fichier principal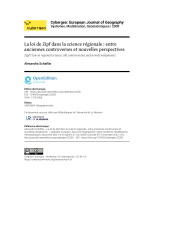 cybergeo-22200.pdf (954.59 Ko)
Télécharger le fichier
Origin : Publisher files allowed on an open archive